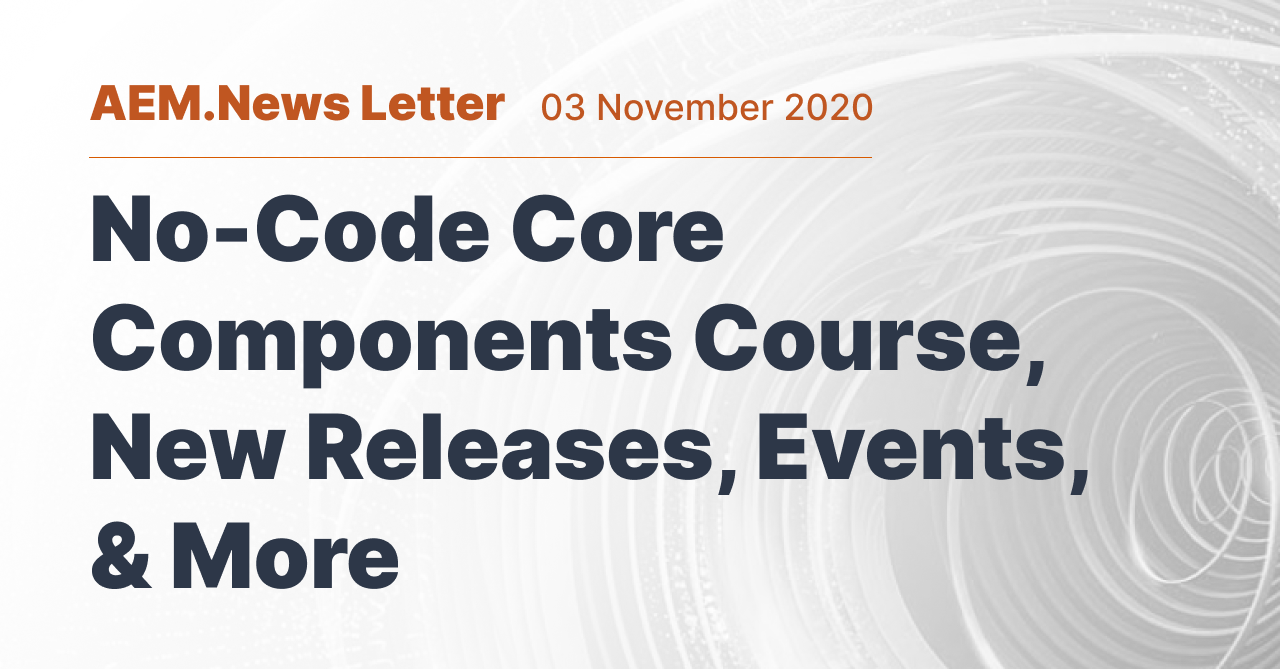 No-Code Core Components Course, New Releases, Events, & More
Welcome to Issue #8 of the AEM.News Letter
This week we've got some great articles for you, along with some interesting events, and some new releases.
A little more than a week ago we passed the 100 subscriber mark! Last week we officially launched the new home of the newsletter on AEM.News. And this week we are announcing the 'No-Code' Core Components Course!
We hope that you've found the newsletter informative and useful, and we hope that the new website will help even more. The plan is to make the aem.news the hub for all content published around the AEM ecosystem, with a newsfeed of articles from the AEM Community, guides and how-to's for AEM topics, along with our own articles and now with our first course!
As always our goal is to help you stay on top of the vast amount of information and resources available within the Adobe Experience Ecosystem through our curated content and timely updates. If you'd like to see a specific topic covered, or have suggestions for other sources you'd like to see us cover, please comment below and let us know.
---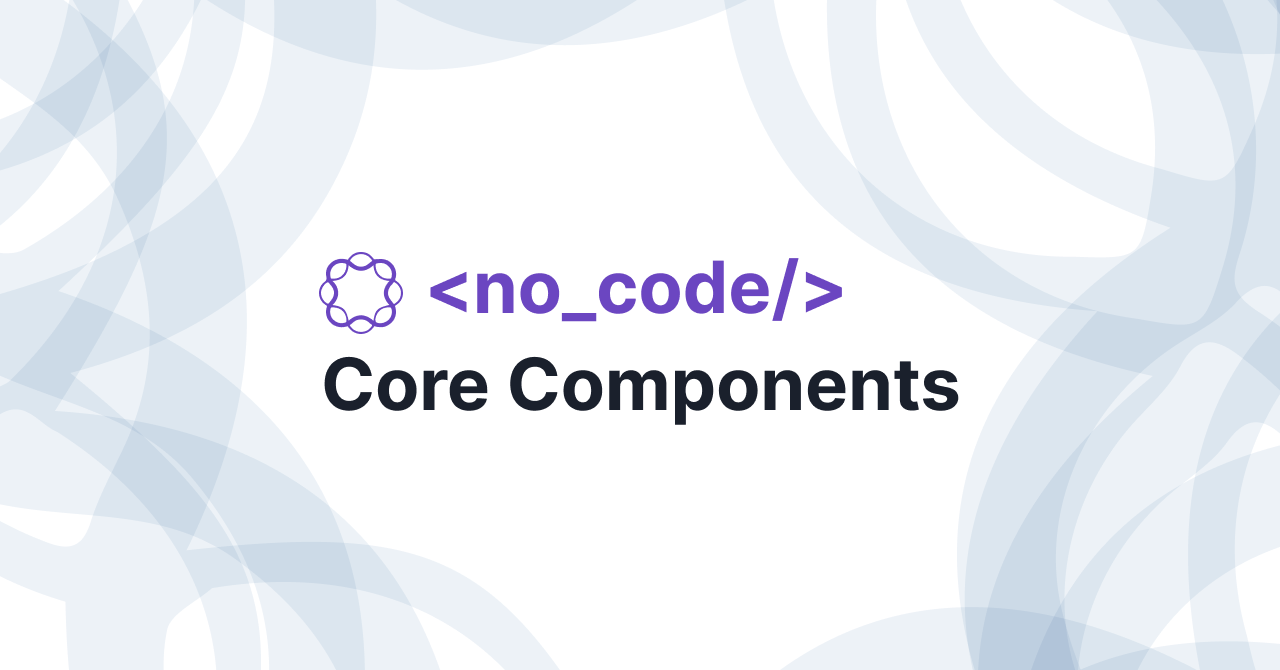 There's never been a better time to build websites due to the abundance of options available and as a result the 'no-code' and 'lean-code' offerings are transforming how products get made and business gets done.
The Adobe Experience Manager is as powerful as it is complex which has prohibited it's entry into 'no-code' revolution. Until now.
The 'No-Code' Core Components course will teach you how to make a fully functional, completely customized, and beautifully on-brand website without a single line of Java in sight.
Adobe has provided the toolset with Core Components, but just as I don't know how to use all the tools in my actual toolbox, maybe you don't know how to get the most out of Core Components.
Luckily for you, I do know and I will show you how to do so too.
---
Events this Week
4 November | 08:00-13:00 AEDT | Registration now closed
This is day two of the Commerce Cloud technical sales workshop. This workshops is the optional Experience-Driven Commerce workshop and covers Magento, AEM Sites, Adobe Analytics, and Adobe Target. You must have attended day 1 of the Commerce Cloud workshop.
04 November | 08:00-09:00 PST | Register
AEM now makes it even easier to power content in SPAs, IoT, and other headless apps using GraphQL. With GraphQL it's easy to ask for exactly the data you need. It also helps apps run faster because of more efficient queries and responses. Join this webinar to learn more about AEM's new GraphQL and content modeling capabilities to help you power all of your client's headless use cases.
05 November | 16:00-17:00 IST | Register
Get maximum returns on enterprise content with a component content management system built for technical documentation, IT, and marketing teams. Scale content creation, minimize content management risks, and deliver omnichannel experiences for product documentation, policies and procedures, and long-form marketing content.
05 November | 09:00-10:00 MST | Register
Join Product Management Director, Chris Hedge, and Global Customer Success Senior Director, Stephanie Wilkinson, as they discuss the 2021 Magento Commerce roadmap. This information will help Magento customers adapt to the changes in eCommerce, anticipate budget requirements, and set your business up for success in the new year. Corey Gelato, Adobe's Commerce Strategy Consultant, will then host a live demo of features included in the most recent Magento release, 2.4.1.
05 November | 08:00-09:00 PST | Register
In this webinar we will deep dive into the new on-device decisions capability enabling new zero-latency use cases for testing and personalization in Adobe Target.
06 November | 11:00-12:00 EST | Register
Learn to position Adobe Experience Cloud to industry-specific clients. This session will focus on Financial Services and discuss leveraging an integrated Adobe stack through use cases as well as case studies/success stories.
---
Tools & New Releases
This core components release contains several bugfixes and enhancements, most notably:
Find out what's new in the Solution Partner Portal, with new training, resources, and content that help you succeed and wow your clients! The Solution Partner Portal makes it easier and faster to find the resources you need to grow your skills and Adobe practice. Here's one that might be of particular interest to the Architects and Developers: Adobe Experience Manager as a Cloud Service - Training & Resources
Steven Carter, Associate Principal Architect at Bounteous, hosted a session during Adobe DITAWORLD 2020, focused on the XML Documentation for Adobe Experience Manager (AEM) solution that provides a seamless, component-based structure to map high-volume, complex information at scale.
Chhavee Sharma | Moonraft Innovation Labs
While publishing web content, content authors often need relevant images to enhance the digital experience and Unsplash is one of the most popular sources for imagery. A convenient way to lookup images saving both time and effort is to have the search availability within AEM, and this article provides a guide to a fast and seamless way of adding images to your web content from within the AEM authoring interface. Get the code →
This article recounts how the author made the switch from static to editable templates and shows how to create a custom implementation to fit your own needs by answering some frequently asked questions about AEM Modernization custom solutions. AEM Modernization Tools makes customization easy by providing a broad range of pre-set options that can be combined to fit your needs, and can be extended through registering OSGi services and implementing APIs. AEM Modernization Tools Repo →
Coveo is a scalable cloud platform that solves your search needs and can be combined with Adobe Experience Manager to optimize your users' content experience with ML intelligence. MC+A has released their Coveo Connector for open source usage with the MIT license. Get the code →
Focusing on Time to Value is a critical piece that many people often ignore or don't realize the benefits that can be gained. Rather than focusing on delivering a complex project that is everything your marketing team ever imagined, instead break it up into smaller pieces that allow you to start succeeding with the marketing goals early. This is what Adobe's Digital Foundation Blueprint is focused on.
If you want to quickly look for different content or node values or test a query before implementing it, with the query builder debugger console, you can do just that! In this quick tips episode, you will learn how.
In this article we learn how to register Sling Servlets based on dynamic paths provided by the client, configured for different environments, and configured by authors.
This tutorial demonstrates how to populate CoralUI Select dropdowns in an AEM component dialog from a JSON data source using JavaScript. For added complexity, we're cascading the dropdowns in multiple instances within a Multifield component.
---
Jobs
Full Time | Hoodoo Digital | Salt Lake City, Utah, USA | Apply
Hoodoo is looking for an Adobe Experience Manager (AEM) Architect who is able to maintain and enhance their current operating platforms and work with their application development team to integrate new applications into our network. AEM Architects will lead projects that extend and enhance the AEM platform.
Full Time | VASS | Madrid, Spain | Apply
VASS is a private digital solutions agency that specializes in cutting-edge technologies in Europe and America, and they are looking to increase their Digital Business Platform team.
Contract | Panzer Solutions | New York, New York, USA | Apply
Full Time | Perficient | National, Maryland, USA | Apply
At Perficient you'll deliver mission-critical technology and business solutions to Fortune 500 companies and some of the most recognized brands on the planet. You will do this with cutting-edge technologies, thanks to our close partnerships with the world's biggest vendors. Our network of offices across North America, as well as locations in India and China, will give you the opportunity to spread your wings, too.
Full Time | Adobe | Basel, Switzerland | Apply
Changing the world through digital experiences is what Adobe's all about. Adobe Experience Manager Sites Engineering team is looking for an experienced Site Reliability Engineer (SRE) to help build and operate DevOps services that lead Digital Business transformation for the best known brands and organizations worldwide.
---
Credits, Speakers, & Contributors
AEM News Newsletter
Join the newsletter to receive the latest updates in your inbox.
Comments
Sign in or become a AEM News member to join the conversation.
Just enter your email below to get a log in link.
---