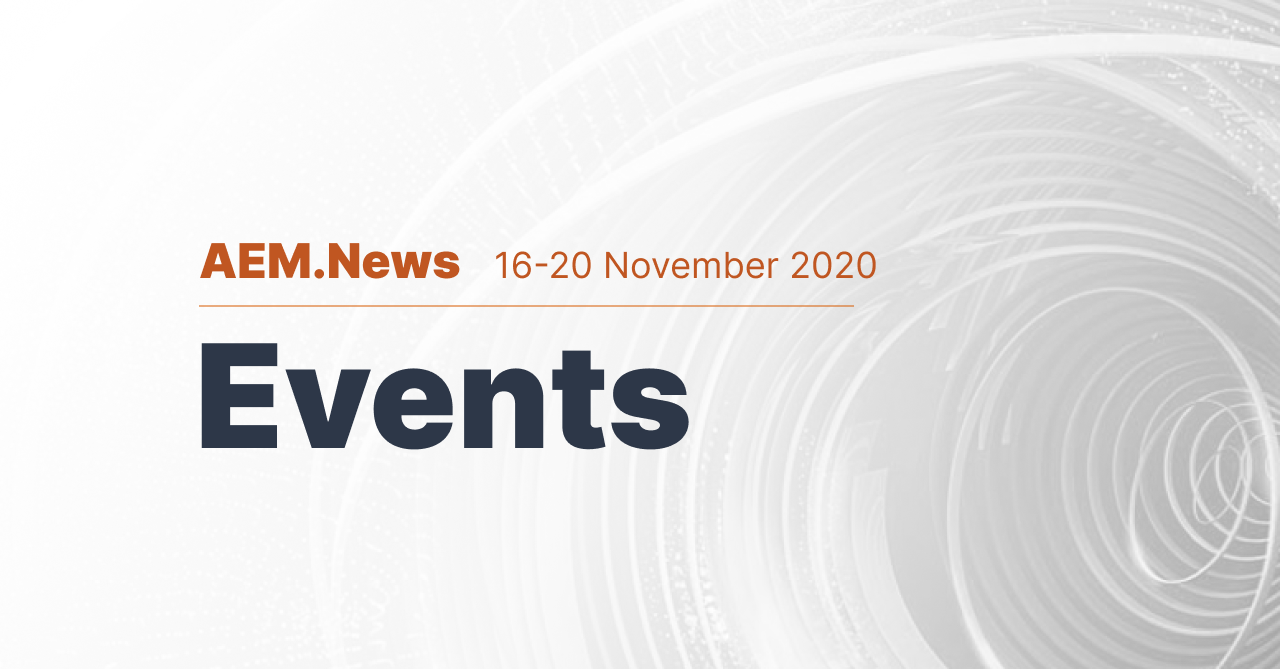 📅 Events this Week: 16-20 November 2020
There's a bunch of great events and webinars to attend this week with something for everyone: Digital Foundation Blueprint Best Practices, Magento Technical Workshop, Custom Apps with Project Firefly & more
Monday 16
Adobe's Digital Foundation Blueprint is all about accelerating time to market while reducing the complexity of AEM projects. Join us to learn how partners have been able to leverage the Digital Foundation Blueprint framework in practice to translate design into experience with minimal customization. We will announce the winners of our Lean Code Contest, and have the winners walk through their submissions and share best practices they used during the process.
Tuesday 17
Please join us remotely on November 17, 2020 for an event aimed at helping you prepare for the Adobe Business Practitioner ACE (Adobe Certified Expert) exam. Whether you're new to Analytics certification or you're a seasoned ACE expert looking to re-certify, this event is for you.
Join us once again for a follow-up 60-minute SWAT session and see the live demo showing SWAT using a SWAT Sandbox Account. Hear from Barnet Hellman, Senior Manager, Customer Engineering, on the new SWAT Tabs, Patches and Alerts and help avoid and resolve issues quickly and efficiently!
Rescheduled from 6 November. Learn to position Adobe Experience Cloud to industry-specific clients. This session will focus on Financial Services and discuss leveraging an integrated Adobe stack through use cases as well as case studies/success stories.
Wednesday 18
This Commerce Cloud workshop is day 1 of a 2-day workshop and covers Magento only. Day 2 is the optional Experience-Driven Commerce workshop and covers Magento, AEM Sites, Adobe Analytics, and Adobe Target. You must attend the Commerce Cloud workshop (day 1) before you attend the Experience Drive Commerce (day 2).
Project Firefly is a complete framework for building Adobe-hosted Cloud Native Apps that extend the functionality of Adobe Experience Platform and Adobe Experience Cloud solutions. During this session, we'll share the new features and sample use cases from beta customers to illustrate how customers and partners can easily leverage Project Firefly to extend your current Adobe integrations.
Partners should register to attend one of the sessions below upon on-boarding, and re-attend at least once per year to stay current. Deal Registration financial rebates are contingent upon staying update to date with the latest processes and guidelines. If you would simply like to attend a portion of one of the sessions below without registration (for example, to ask some questions during the Q&A) we usually have some time for this at the end, and you are also welcome to join us at that time as well.
The AEM Digital Asset Manager is powerful, but requires good governance and information architecture to avoid devolving into a mess of folders and assets. Join Bounteous as we reveal their personalized asset navigation system, DAM Views for AEM Assets.
Thursday 19
This Experience Driven Commerce workshop is day 2 of a 2-day workshop. You must attend the Commerce Cloud workshop (day 1) before you attend the Experience Drive Commerce (day 2).
Join this session to learn about the future of data management with Adobe. We'll discuss the impact of upcoming mobile ad ID and 3rd party cookie restrictions to DMP use cases, explain Adobe's approach to identity in a "cookieless" world, and share details about the direction we're heading with Audience Manager and Real-time CDP.
AEM News Newsletter
Join the newsletter to receive the latest updates in your inbox.
Comments
Sign in or become a AEM News member to join the conversation.
Just enter your email below to get a log in link.
---