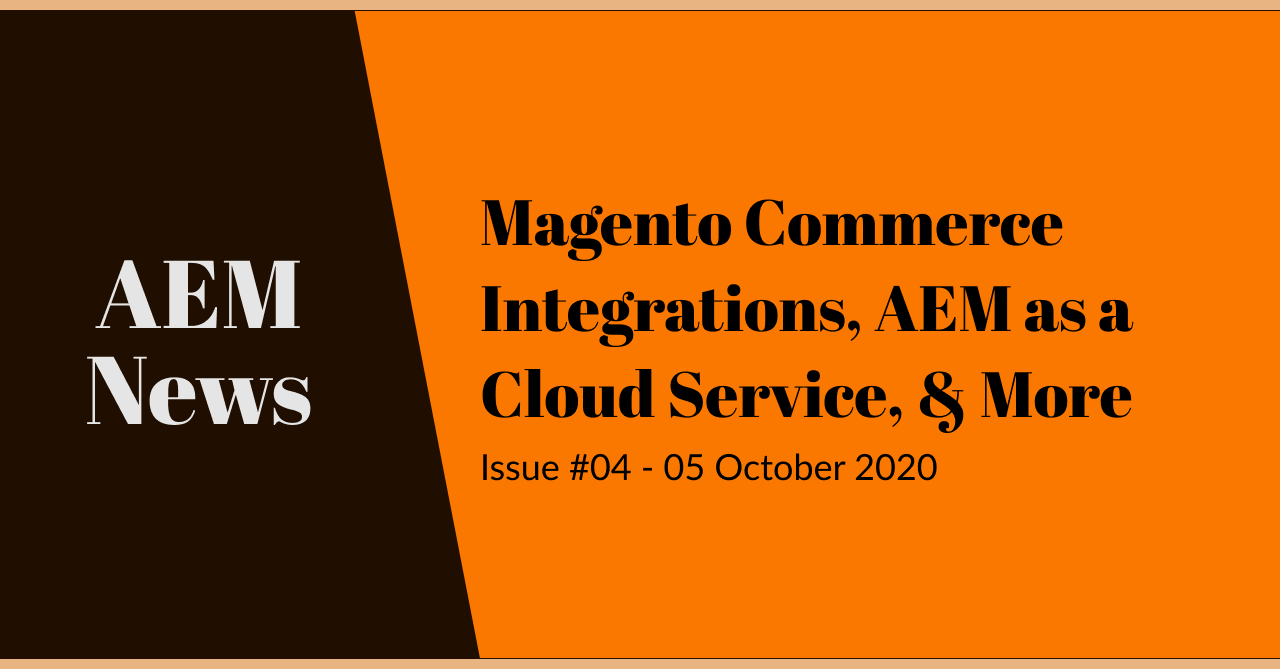 Magento Commerce Integrations, AEM as a Cloud Service, & More
Welcome to Issue 4 of the AEM NewsLetter
This week we've focused on Magento Commerce Integrations and AEM as a Cloud Service tips and tricks. We've also included some upcoming events and webinars that you won't want to miss, along with some quick links to tools we hope you'll find useful.
If you'd like to see a specific topic covered, or have suggestions for other sources you'd like to see us cover, please comment below and let us know. We are looking into providing more content across the Adobe AEM ecosystem including Magento, Target, Launch, AEP, & AEC. Leave us a comment and let us know what you think :)
---
Continuing the AEM Developer Series with a two part post on AEM Queries. These posts provide an overview of how queries work in AEM and dives deeper into Query Builder and the Oak Query Engine. In the second part it also covers how to build a simple search component that leverages the a Sling Servlet and the Query Builder API.
---
As with all changes, there are tradeoffs to be considered; what is gained and what is lost.  This article reviews the tradeoffs between using AEM as a Cloud Service vs Classic AEM, including the new limitations compared to fully controlling the environment, and how this tradeoff allows for greater focus on development and customization.
---
If you are new to working with Adobe Managed Services, this guide will help alleviate some of the frustration with some gotchas, quick tips, and best practices that you might not have known. Included are tips for navigating the environments, frequently used directories, useful commands and more to help you feel your away around your AMS installation.
---
Providing shoppers a great commerce experience is critical to achieving high engagement and driving conversions. But the amount of assets needed to provide these experiences has continued to grow and can be difficult to manage. The [Magento AEM Connector] enables Magento product managers to use the Digital Asset Management (DAM) system from within Magento to optimize and streamline product media asset management.
---
If you've ever been curious about the internals of the Apache Sling Engine, this article is for you. A deep dive into what's happening behind the scenes into URL decomposition, how to connect your IDE to the Sling Engine debugger, set breakpoints, and debug troublesome URL decomposition issues.
---
Building Experiences with Mark Szulc
Markus Haack joins to discuss how Adobe Experience Manager works together with Magento, using the latest release of the Commerce Integration Framework.
---
Quick Links
A collection of independent Open Source Libraries & Extensions for AEM-based Applications
The schedule for upcoming releases of AEM as a Cloud Service and Classic AEM
---
Events & Webinars
Thursday 15 October | Bounteous
Join us as we unveil the new Bounteous Connector for Magento Commerce and Adobe Experience Manager (AEM) Assets. The session focuses on enhancing enterprise workflows, the seamless integration process between these two programs, use cases that solve common content and commerce challenges, customer-specific experiences, and a demo on how to implement dynamic assets and rich media to further improve shopper journeys.
---
Hoodoo Digital | Solution Partner Program (SPP) | Wednesday 8 October
Delivering a digital experience quickly can be a challenge. To help decrease the time between project initiation and value realization, Adobe has put together a Digital Foundation Blueprint for it's partners. Join us to learn how Hoodoo Digital has leveraged Digital Foundation Blueprint on their projects, the approach they took both pre and post sales, and some of the typical challenges they've faced. They will also share recent examples of customer success and how leveraging Blueprint has enabled them to maximize the value they deliver on projects.
AEM News Newsletter
Join the newsletter to receive the latest updates in your inbox.
Comments
Sign in or become a AEM News member to join the conversation.
Just enter your email below to get a log in link.
---