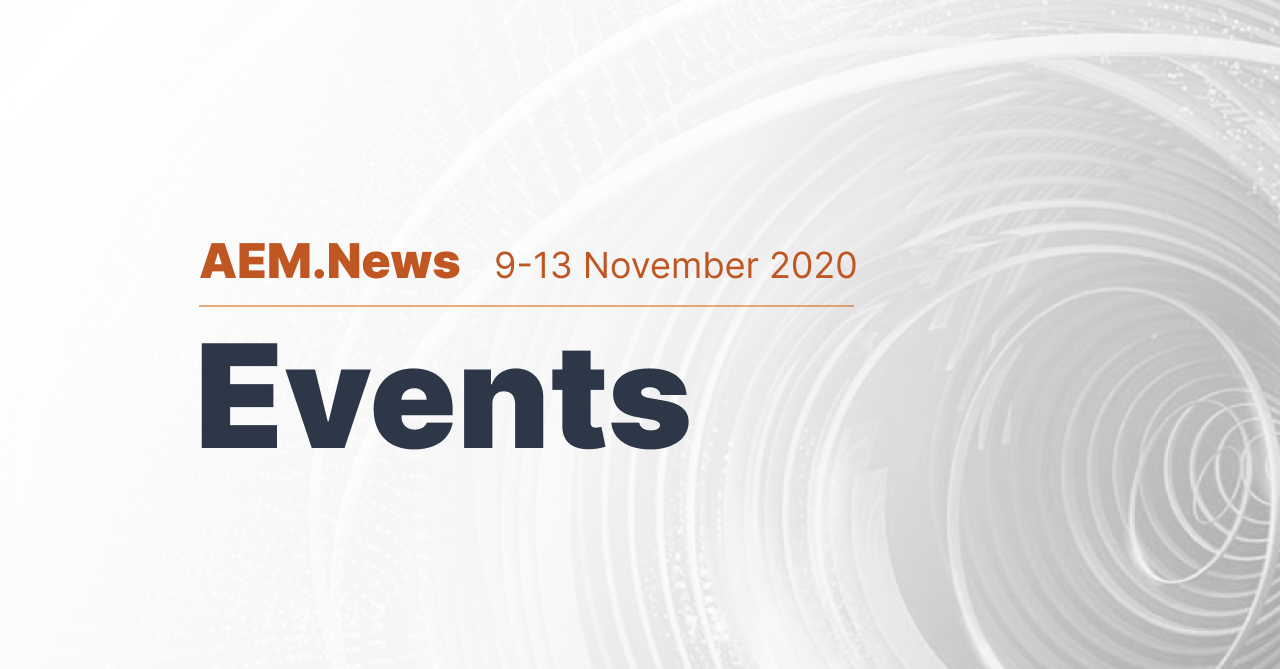 Events this Week: 9-13 November 2020
There's a bunch of great events and webinars to attend this week with something for everyone: Campaign, AEM Cloud, Magento, AEP, & More
10 November | 10:00-10:45 | Register
Adobe Experience Manager as a Cloud Service offers brands numerous benefits, from accelerating agility in delivering experiences to lowering TCO. In this expert-led session, hosted by Adobe and Adobe Platinum Solution Partner Wunderman Thompson, you'll learn everything you need to create a successful blueprint for migrating to a cloud-native Adobe Experience Manager solution.
11 November | 8:00-9:00 | Register
Join us for this interactive Campaign webinar where we will be discussing the newest features in the October 2020 release of Adobe Campaign Classic. We'll be taking a deep dive into the new Push notification capabilities and Control panel enhancements and discussing best practices around Deliverability, delivery design and effective sending.
11 November | 11:00-12:00 | Register
Back in Summit 2018, Adobe announced Adobe Experience Platform, and two years later, the platform is real and is destined to change the entire ecosystem. It might be Adobe's strongest chance at creating that one-stop-shop for everything in Martech. Over the past year, Softcrylic had the chance to dive deep into the platform and test all its offerings from data ingestion, identity building, data modelling and multi-channel activation. They have worked with clients to onboard, build audiences, and analyze and orchestrate customer journeys. In this webinar, they will bring in the experts to a roundtable discussion. You will get the full and true state of Adobe Experience Platform (AEP) and a chance to answer all your open questions.
12 November | 8:00-9:00 | Register
Did you know that many site outage and performance issues can be prevented and resolved without even submitting a support ticket? Magento Managed Alerts proactively track all cloud sites and give you the option to send alerts to notification channels of your choice like email, Slack, or PagerDuty. When alerts are triggered, the platform will provide specific instructions on what to do and how to troubleshoot the specific alerts.
We'll also give a quick update on the new Sitewide Analysis Tool, now part of Magento Commerce 2.4.1.
---
12 November | 8:00-9:00 | Register | Featured Event
In today's experience economy, where digital-only is our reality, marketing and customer service organizations must be aligned around a data-driven, customer-first approach. Connecting the Adobe Experience Platform, the industry's first purpose-built Customer Experience Management (CXM) platform.
In this webinar you will learn how to enable more seamless, connected customer experiences with ServiceNow and Adobe - An industry-first solution connecting data from ServiceNow's Customer Service Management workflow and Adobe Experience Platform.
---
13 November | 10:00-11:00 | Register
Are you interested in adding offline browsing and improved mobile support to your web site?
This session will provide an introduction to XML Documentation for Adobe Experience Manager, including a Solution Overview, key value pillars, wins for AEM partners, the current partner network, customer footprint, target personas and resources, finishing with a Q&A.
13 November | 11:00-12:00 | Register
Learn to position Adobe Experience Cloud to industry-specific clients. This session will focus on Public Sector and discuss leveraging an integrated Adobe stack through use cases as well as case studies/success stories.
AEM News Newsletter
Join the newsletter to receive the latest updates in your inbox.
Comments
Sign in or become a AEM News member to join the conversation.
Just enter your email below to get a log in link.
---