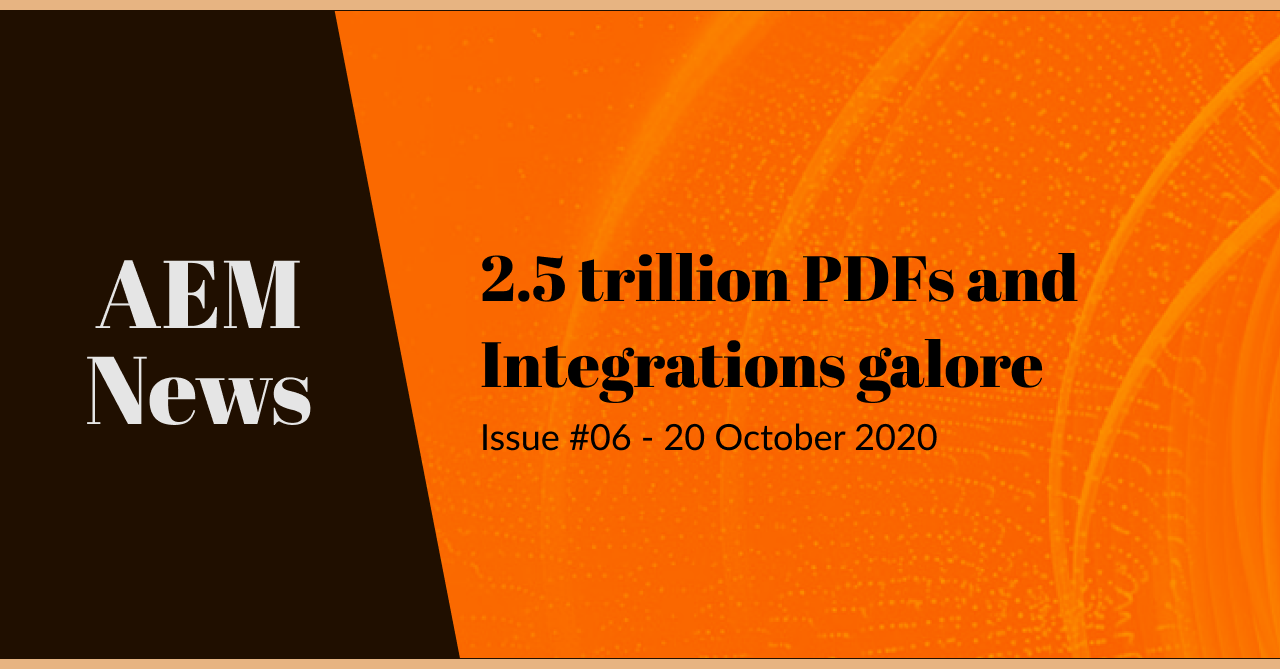 2.5 trillion PDFs and Integrations galore
Welcome to Issue #6 of the AEM NewsLetter
In this issue we've got the event calendar for the week, some new releases and quick links, along with two themed sections covering PDFs and Adobe I/O Integrations.
There are several Solution Partner events this week that might be of interest: Tuesday is focused on Magento, Wednesday is Day 1 of the Commerce Cloud Technical Sales Workshop, Thursday is for Expanding your Technical Expertise, and Friday you can learn about Journey Orchestration for Adobe Experience Platform.
For this week's themes we bring you a deep dive into the wide world of PDF's. Did you know that there's an estimated 2.5 trillion PDFs created each year?! After you've learned more than you knew you wanted to about PDFs, we've got several great articles that will teach you about integrations for Launch, Notifications, Deployments, & Event-Based Triggers.
As always our goal is to help you stay on top of the vast amount of information and resources available within the Adobe Experience Ecosystem through our curated content and timely updates. If you'd like to see a specific topic covered, or have suggestions for other sources you'd like to see us cover, please comment below and let us know. Leave us a comment and let us know what you think :)
---
Events This Week
20 October - 12:00-12:30 - Register - Solutions Partner only
In this month's 'Lunch and Learn', you can learn about Magento Starter vs Pro, Magento Managed Alerts, and enhancements to the Magento Commerce Pre-Launch Onboarding Checklist. You'll learn  the differences between Starter and Pro to sell the additional value of Pro and manage expectations of Starter.
21 October - 9:30-2:30 - Register is now closed - Solutions Partner only
Hopefully you've already registered for the Commerce Cloud Technical Sales Workshop. Day one is focused on Magento Commerce Cloud and you will learn how to use assets and demo tools to deliver sales pitches and demos. You will also learn how to customize presentations and build custom demos and get feedback on your pitches from the Adobe SC team.
22 October - 8:00-9:00 - Register - Solutions Partner only
As Adobe continues to expand their offerings, customers need cross-discipline experts to guide them to success. Join this webinar to engage with some of Adobe's Technical Development Managers to discuss what steps you should take to expand your expertise and how this impacts success at your practice.
23 October - 11:00-12:00 - Register - Solutions Partner only
In this session, you'll learn how Adobe Experience Platform powers journey orchestration of the customer experience from start to finish.
---
A Deep Dive into setup, usage, and extension of PDFs in AEM
Ben Vanderberg, Suvadeep Dey, Deepak Kar | Adobe Tech Blog
According to the PDF association, an astonishing 2.5 trillion PDFs are created every year. To improve the experience of consuming all this data stored in PDFs, the PDF Viewer Component was added in June to Core Components and supports integration with the Adobe PDF Embed API.
This article guides us through the process to get setup with the PDF Embed API which will be necessary for embedding your PDFs in AEM. To follow up, here's a walkthrough of using your PDFs in AEM with the PDF Viewer Component integrated with the PDF Embed API.
Next you might be interested in getting some Document Analytics about the PDFs you've added to your site to help you uncover unique data and actionable insights. This post explains the technology and the often-missed nuances of a document analytics implementation while also covering the best practices from successful real-world deployments.
And if that wasn't enough, perhaps you want to add offline or downloadable support for the PDFs on your site. This article provides the steps on how to programmatically enable Reader Extension to a PDF file using AEM Forms APIs.
---
Integrations for Launch, Notifications, Deployments, & Event-Based Triggers
Prateek Kejriwal, Abhishek Kumar, Justin Edelson, Raman Gupta, Vardan Gupta, & Gaurav Tiwari | Adobe Tech Blog & TA Digital
One of the best features of the Adobe Experience Cloud and Platform is it's integrations powered by Adobe I/O. This week we will learn how to leverage the Adobe I/O Runtime for various applications like better notifications, smoother deployments, integration with Adobe Launch, and Adobe Experience Platform.
Our first article teaches us how to send notifications to Slack when an Adobe Experience Platform Launch goes to production. Through this integration, we can provide better governance, improved transparency, and save time through timely updates that come to stakeholders.
If your AEM implementation isn't on AEM as a Cloud Service quite yet, managing deployments can be complicated. This article walks us through how the Adobe I/O Runtime can be configured to manage the complexity and coordination for smoother deployments.
Getting the best data from your websites is critical to business success, and our third article shows us how to setup Adobe Launch, Connect Launch with Adobe I/O, and integrate with AEM to extract data and insights to meet your business requirements.
Easily Coordinate External Deployments with Cloud Manager and Adobe I/O Events: A Step-by-Step Guide
---
Quick Links
---
Releases
Version 1.1.1 standardizes the behaviour of Data Layer in terms of initialization. Provides extensive unit tests to cover all different initialization scenarios.
BlurHash is a compact representation of a placeholder for an image. Replace boring grey boxes with beautiful blurhash states and the designers will be happy.
AEM News Newsletter
Join the newsletter to receive the latest updates in your inbox.
Comments
Sign in or become a AEM News member to join the conversation.
Just enter your email below to get a log in link.
---